2010 ADRL.us Shakedown at E-Town Photo Review and Highlights
Eight Classes Of Drag Racing Action
Photos By goDragRacing.org and "Eric Basmajian" The Drag Racing Photographers

Last year, without a doubt, the Shakedown at E-Town was one of the most sensational events to happen in the Northeast. Seven classes were upped this year to eight, featuring the newest addition of the "Mountain Motor Pro Stock Association" as the featured inclusion. Read The Full Race Review Of The 8th Annual ADRL.us Shakedown At E Town 2010 Here: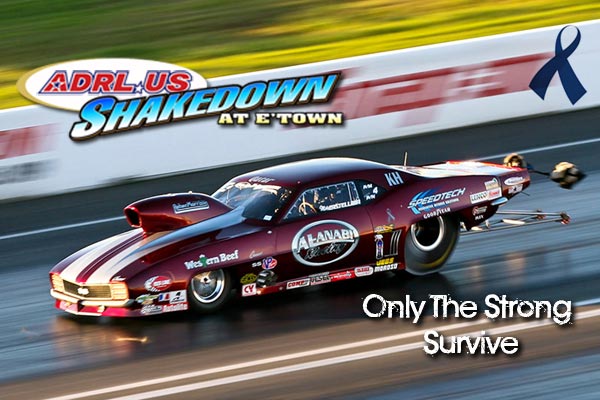 View Over 1,900 Drag Racing Photos Of The ADRL.US Shakedown At E Town 2010

Al-Anabi Racing had obligations that would disallow them from being able to sponsor the event with contractual limitations so the ADRL.us took the event over with fervor. Back on the billing were Barwa, Speedtech Nitrous, and now Adrenaline Magazine combining to fill the open sponsorship slots. Returning again were Western Beef, Protorque, Modzilla Cannonball Racing, Vincent Amato, K & K Advanced Door Car Technology, Precision Turbo, P M Construction and who can leave out Mickey Thompson.

The Shakedown was not only streamed live over the internet but now just a month later, RPM Magazine, Drag Illustrated, and more have pages of searing high horsepower stories coming to print and most likely in your mailbox. Press and media hounded this event from beginning to end capturing images and pages of text to have posted on internet message boards and social media.

The event this year was all quarter mile drag racing except for the unlimited "The Adrenaline ADRL Outlaw 1/8th Mile Challenge: Presented By Barwa. For lack of better explanations, the earth turning power of these cars is incredible. Doorslammers at their finest. All other classes set records or Shakedown Best ofs for performances. Not a single champion was able to repeat. New champions were crowned and now have a full year to come back and defend their titles with honor.

Susan Verzilli, who was part of the 8.50 Index, was honored after her passing on January 16th of this year. Susan had promoted the huge 8.50 Index field, putting together more money for those racers in the class. The race itself was dedicated in the honor of track owner Vinny Napp and Susan Verzilli during afternoon ceremonies. The legendary Camp Stanley was named Grand Marshall and the lovely "Jessica Barton" was the first official spokesmodel of The Shakedown at E-Town.




"WORLD WIDE DRAG RACING PRESS RELEASE"
NHRA Pro Stock Drag Racing Comes To Hollywood Via Ralph Romeo, "Romeo Brothers Racing" Filming To Begin January 2011!!
Author: Ralph Romeo | Colmar, Pa, Photos By goDragRacing.org "The Drag Racing Photographers"
"The Tea Man", an independent feature film, based criteria in 1987, the movie follows the lives of two mid-life crisis friends, who with the help of an ex-con "old head", played by Motion Picture Actor Eddie Tunick decided to rob banks to make things right! What could possibly go wrong? The film has just wrapped up and is set to World Premier in both Philadelphia and Hollywood late fall 2010.

Writer / producer / director Joe Carlin's next film on NHRA Pro Stock Drag Racing which will star Mr. Tunick and begin shooting in Pomona, California January 2011. Both Mr. Carlin and Mr. Tunick, had been looking feverishly to find a racing team that would help them in their endeavors to obtain technical, critical, information that Mr. Carlin felt was necessary for the technical side of the script and the "film's success". They didn't have to look too far! The name Ralph Romeo ("Bowtieone"), and his sons Steven, Tommy and Michael ("The Real Pep Boys") of Romeo Brothers Racing based in Colmar, Pa, kept coming up over and over again.


When Mr. Carlin met Ralph at the shop, they spent hours talking about race cars, and the many races Michael had won in 2009 and 2010 in The 10.0 Index such as Englishtown, New Jersey and Cecil County Maryland of which he won both championships in 2009. Tommy had won an 8.50 race at Atco, New Jersey, in his first season; Steve had also won a 10.0 race at Atco as well. Mr. Carlin asked "who's your sponsor"? Ralph answered "We have BP Speedshop in Horsham, Pa who helps us out a little, but we have no Major Sponsor". To Mr. Carlin's surprise he couldn't believe that they did not have a major sponsor. Carlin also asked Ralph "how did you learn so much about Pro Stock Drag Racing"? Ralph said "I attribute much of what I have learned over the years to such great Pro Stock Racers like Kenny Koretsky aka (Captain Chaos), Eddie Guarnaccia (his cousin), Warren Johnson aka (The Professor), Joe Lepone Jr, Larry Lombardo ,But mostly from my [ best friend] Roland Tomaccio". "It was a match made in heaven" Carlin added. So he decided to sponsor them for "THE SHAKEDOWN AT E-TOWN".


Last week was their first 8.50 sponsored joint venture at "THE SHAKEDOWN AT E-TOWN" in Englishtown, New Jersey, where Michael "Mike" Romeo qualified 5th, as 60 cars vied for position in a 32 car field. Steven Romeo just missed the bump. "Hey, that's racing", said Ralph Romeo, a 40 year veteran and innovator of the sport. "You can't help eatin', breathin' and sleepin' this sport once it grabs you" added Ralph. Carlin agreed, "Hey, I wasn't expecting to become a motor head when I started this project, but I'm hooked"!

Sunday October 10th, Eddie Tunick will be at The Toyo Tire Nationals at Maple Grove Raceway in Reading, Pa, where he will enjoy the thrills of the NHRA and "The Full Throttle Racing Series", and will continue to promote "The Tea Man" movie.

Eddie who has been tagged as "Hollywood's Newest Bad Guy" will be autographing colored photographs for the race fans.


On Sunday, October 10, 2010, Bob Frey, "The Voice of NHRA Racing" announced "The Tea Man" movie starring Motion Picture Actor Eddie Tunick will premier in Philadelphia and Hollywood late November. The announcement was made at the Toyo Tire Nationals Maple Grove Raceway in Reading, PA. There were over 50,000 race fans in attendance and it was broadcast worldwide to millions of people on ESPN. Eddie is absolutely overwhelmed by the thousands of friend requests on his Facebook page and loves the huge response from his fans all over the world!

Eddie was accompanied by his personal friend and business partner Ralph Romeo, President and CEO of RMS Enterprises LTD. Eddie is busy researching for his next movie depicting the real life story of an NHRA drag racer competing his way up through the ranks of the "Full Throttle Racing Series". He is scheduled to appear at the Las Vegas Nationals October 28th thru the 31st. everyone is invited to stop by for a personally autographed picture. Filming for the new movie begins early 2011 in Pomona, CA.

View the movie's trailer at www.theteamanmovie.com

Eddie Tunick E-Mail: hollywoodbadguy@gmail.com See Eddie Tunick on Facebook

Stay tuned for updates by TEXTING theteaman to 90210.

Text: bowtieone to 90210 for more information on Romeo Brothers Racing.

Romeo Brothers Racing E- Mail: rromeobowtieone@comcast.net




The Northeast Outlaw Pro Mod's Return to Atco Raceway "Super Saturday"
Pro Mod's, Outlaw 10.5, Drag Radial And Index Action At Atco, The Ultimate Doorslammer's.
Photos By goDragRacing.org and "TwistedVette" Photography

Earlier in the week the seasons changed from summer to fall but no one expected to still be feeling mid July temps on this Saturday for the "Super Saturday" at Atco Raceway that featured more than seven classes of drag racing including the "Outlaw 10.5" series, 8.50, 10.0 and 12.0 index, 275 Drag Radial, and the normal class racing of top sportsman, and top dragster. Racing was considerably tight throughout the day even though heat was part of the show that drivers and crews would surely have liked to see gone from this Saturday and maybe get that great air and a cooler surface to head down the 1320ft of concrete and blacktop as racers strive to break records that have been "held back" in ways only an engine can feel with this years unrelenting temps. Read More About Atco Raceway's Super Saturday Here: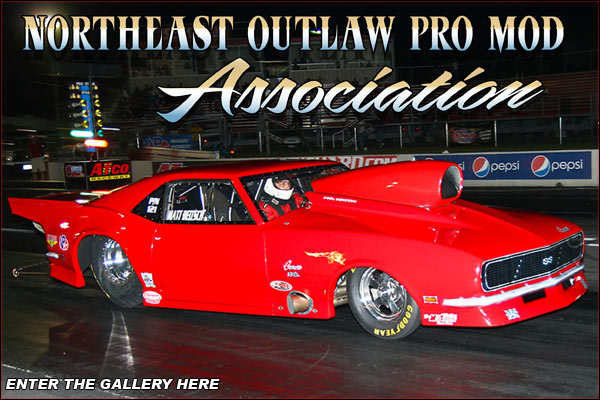 Enter The Northeast Outlaw Pro Mod Gallery From The "Atco Super Saturday" 2010 Over 350 Images
Northeast Outlaw Pro Mods "Rumble At The Grove" 2010
Pro Modified Thunder In The Distance.
By goDragRacing.org



We've all been accustomed to the surroundings of Maple Grove Raceway nestled in the mountainous area of Pennsylvania. Annually there comes a show to the Grove that states the obvious; "The Rumble At The Grove" featuring the Northeast Outlaw Pro Mod Association creating that "Rumble" which Webster's Thesaurus defines when used in a verb, "to make a low heavy rolling sound and to travel with a low reverberating sound" which is the only way to explain to your senses what it is that just shook you from the inside out with the thrum of alcohol pressurized with superchargers and nitrous blasted out the pipes through mega cube big blocks. Inside the team competition a similar "Rumble" was going on within the two classes, Nitrous Only and Blown vs. Turbocharged" in this association the same word also takes on the last entry as the thesaurus defines "a street fight especially among gangs" which in this case is a friendly street fight whereas all the racers are vying for points, status and that ultimate win amongst friends. Read More About The Rumble At The Grove Here: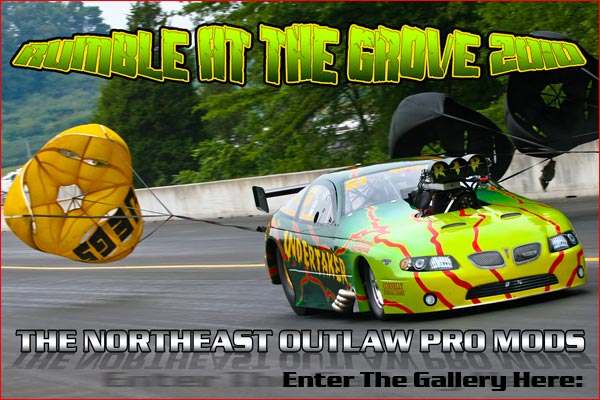 Enter The Northeast Outlaw Pro Mod Gallery From The "Rumble At The Grove" 2010 Over 350 Images
New Outlaw Drag Racing Flyer Design
Speed World Dragway's New Flyer Featuring Jessica Barton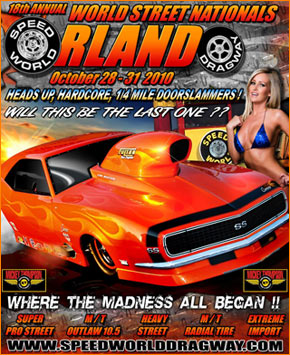 It's not often someone like me gets a chance to work on a flyer design for such an established milestone Outlaw Drag Race such as the 18th Annual Orlando World Street Nationals. Carl Weisinger commissioned this artwork leaving the design up to me personally. Carl expected something edgy, and more gritty with a lot of class as his race personifies. The newest version is over 160 layers in photoshop using various dodging, burning effects and brushes custom made for this project. Various fonts, graphics and photos from the goDragRacing collection are also included in this graphic illustration. It's a task I can say I'm proud to have done and be a part of The Only Real Heads Up Doorslammer Drag Race still left in the USA, Mark your calendars for this event; you will not forget the experience!! Visit Orlando Speed World Dragways Official Website For More Information Here:
Northeast Outlaw Pro Mods At Super Chevy Show Maple Grove 2010
Super Chevy Weekend At The Grove, Some Of The Best Pro Modified Drag Racing.
By goDragRacing.org
This Author dedicates this review "In Memory Of Milt Decker Sr. and Tommy Gray Sr."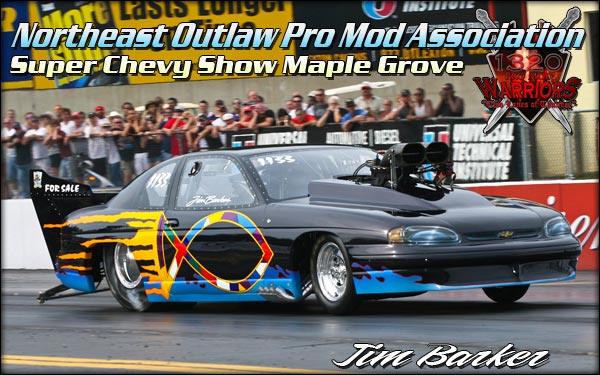 Enter The Northeast Outlaw Pro Mod Gallery From Super Chevy Maple Grove 2010 Here, Over 575 Images
Introduction To
The Northeast Outlaw Pro Mod Association
Weekend:
Having the inclusion of the Northeast Outlaw Pro Mod Association a part of this amazing weekend of racing with the Super Chevy Show was more or less the icing on the cake to this event of worldwide status from publications to the internet. Bringing over 24 cars to the race in both nitrous assisted and Supercharged is what most would consider being "The Show" mixed in with the most popular "Jet Cars and Wheel Standers" that are the common attraction since the nitro coupes have gone by the wayside, now spectators and fans have the opportunity to see the real 1320 warriors of the sport taking on each other in a two class "Nitrous" alone and "Blown Vs. Turbo" with match racing for the cars that didn't fit the class rules laid out by Super Chevy. The Northeast Outlaw Pro Mods bring so much to the quarter mile of Maple Grove Raceway, this was a show inside a show with more horsepower than you could possibly handle. Fans jammed the stands with earplugs, children gazed at the huge burnouts asking parents questions with anticipated gazes awaiting what will happen next in this great family adventure into the senses of sound, smells and memories of Outlaw Drag Racing. Read More Here

New Website Released
www.h-jmotorsports.com Performance Warehouse / Parts And Services
www.h-jmotorsports.com
One of the trickiest I've had to come across in awhile was switching Harry Gerb's website "H & J Motorsports Performance Warehouse" from a php store format to HTML without the add-on store junk that just doesn't work as far as racing parts and services go unless you drop in a fortune for major marketing which still would be questionable at best and still not hurt his rankings. This was a complete make over from top to bottom to not only now find his parts and services but to also show his racing updates from his team; since we all know of Harry's accomplishments he has a long list already soon to have to add an archive page at the rate he is going!!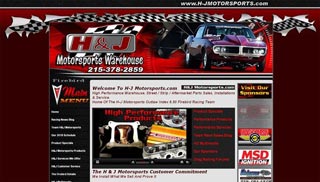 Enter The Website Through The Image or This Direct Link www.h-jmotorsports.com
Harry's website is one of the largest with all the neat stuff and completely expandable to as many more pages as he likes featuring a blog style racing updates page where Harry gets to write his own reviews and thanks in simple HTML text with notepad. I have figured there are at least 18 pages of cool stuff based on valid HTML (not including flash add ons) and CSS styling with minimal JavaScript and a few flash and XML generated slideshows in a jQuery style without the heavy JavaScript which uses your computers power and not the servers, we like to make it easy.
This by far is one of the very advanced websites by goDragRacing.org with built in SEO and maintained by both H-JMotorsports.com and goDragRacing.org. Many images also courtesy of GoneDragRacing.com "Seth"
Harry is now hosted on Hostgator and a blazingly fast server which I recommend to all my customers, his access to mail is simple, his statistics are shown in two varieties and he has all the latest server features already installed by them.
Make sure to stop in and visit www.h-jmotorsports.com
Also, H-JMotorsports now has a "Customer Testimonials" Page and we are accepting your testimonals / experiences for inclusion, please provide Harry with your name / business / racing team with your positive / negative feedback in an e-mail through his contact page. Your feedback is important and if you can shortly describe your experience "around 100 or less words ... More if you like", a photo that is not copyrighted of your racing operation and if possible a link to your website, facebook or twitter account and it will be promptly added and indexed on the net.
Super Saturday Atco Raceway 6-26-2010
A Powerhouse Day Of Pro Mods, Outlaw 10.5, 275 Drag Radial And Index Drag Racing.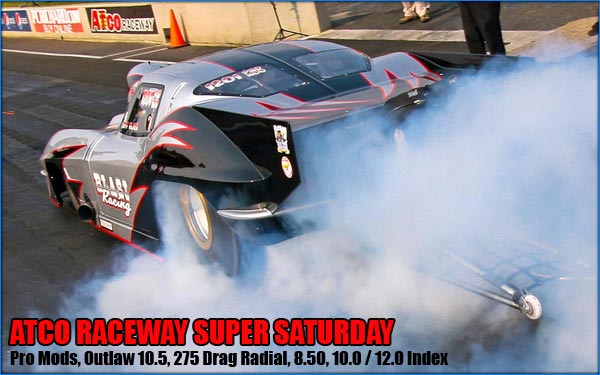 Enter The Atco Super Saturday Gallery Here: Over 375 Images

Throughout the year many associations merge with other race venues to bring out a "Social Drag Racing Event" containing more than the handful of classes but more so a complete race all in one day such as what the spectators and fans of these classes found at Atco Raceway's Super Saturday on June 26th with the added benefit of spectator special entrance of only 25 bucks a carload, try to find this much fun for that price anywhere for a family outing. This kind of day at the races is not the norm for most tracks with Pro Mods, Outlaw 10.5, 275 Drag Radial, 8.50 / 10.0 / 12.0 Index Drag Racing to fill the bill. Read More Here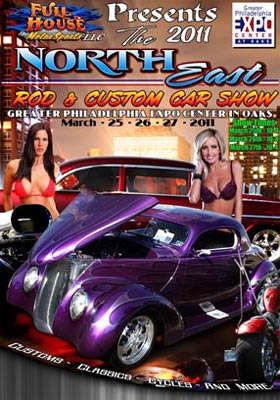 Since the beginning of the indoor show car circuit, many have envisioned a smaller more "outlaw" or independent style venue using the ISCA style show rules but in a different atmosphere like the giant undertaking of the Northeast Rod And Custom Car Show by Fullhousemotorsports LLC.

The large Autorama's always had the effect on car enthusiasts to be able to draw a crowd and keep them coming back for years as is the case with so many area shows like Toppers Of Fargo and more covering over 50 years of Car Show memories.
In the Northeast area of Pennsylvania, the trend is coming back after missing out on the outlaw styled car show, smaller, independent and familiar to those who used to frequent them back in the good ole times when cars we saw on the streets were polished up and set inside the gleaming halls of huge convention centers.

The Northeast Rod and Custom Car Show is now fast emerging as the show to be at in the tri state area coming in March of 2011, with specialty rides of major importance like Jerry Hunt's "Studezilla" of www.soulcrusherracing.comas one of the firsts to sign onto this great idea.

Most will know this Pro Mod by the spectacular paint that was way out of the norm for the outlandishly stellar paint jobs a mile deep in rich color taking a very different approach to committing it to the "Rat Rod" stealth primer and hazed over rusty look that made all of us rubberneck at this ride, finding cracked headlights, spiders, bugs and bullet holes all over it. Mate the paint scheme with some glaring flames and lay it on top of a Studebaker and you have one seriously individualized Pro Modified.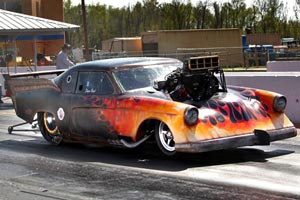 Jerry Hunt will be making his appearances on the weekend of The Northeast Rod And Custom Car Show with "Studezilla" signing autographs and sharing some notable nostalgia with the patrons of this Car Show as will super star models Jessica Barton of the new "MMA Fight Me" Pro Mod Team and PA area Model Krista Elyse, a real Mustang fan herself. During the course of the weekend, car show fanatics will have the opportunity to browse through the major classes including all types of cars to choppers and trucks with these lovely ladies taking time to be a part of the car, owner, sponsor, vendor and patron experience, not too shabby guys.
The Philly Expo Center In Oaks, PA. will be the place you will find more stars and cars this coming March of 2010 inside one of the largest suburban exhibition centers on the east coast with up to 230,000 square feet of uninterrupted exhibition space with Over 5000 free on site parking spaces and wireless internet connections. As the year turns an opening day closes in, the website by goDragRacing.org will be under constant updates with the arrival of two new supporting sponsors YearOne of Orsca Fame and RB Components grabbing the first notable sponsor spots as of this writing.
The inevitable popularity of the indoor car shows will be a part of the Northeast's history when this show takes off on its inaugural date of March 23rd through the 25th. Become a part of a new rich history and relish in the glow of fascinating machines, awesome craftsmanship and brilliant design.
Visit www.northeastcustomcarshow.com for information on this emerging show of the 2011 year.
Newly Released Website Design For C2itenterprises.com Fiberglass Repair Services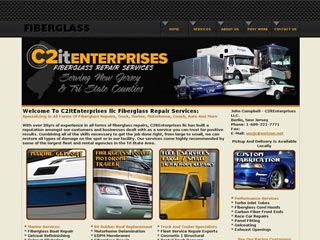 John Campbell, owner and operator of C2it Enterprises LLC gains a substantial web presence with the inclusion of a new website to further his area profile among the best fiberglass, carbon fiber repair services, a full website with built in SEO, logo design, internet marketing and gallery of customers.

A valid XHTML website using both tables and CSS styling to give it that pre made website feel but done by hand in basic HTML converted to XHTML.

C2it Enterprises is one of the most recognized names in fiberglass repair, from fleet service to modifying race cars such as well known Outlaw Drag Racers, Joe Newsham, Tom and TJ Kasper, Bill Verzilli, and Brad Harris. John Campbell will surely stand out in a tough competitive field of motor home, coach, truck, automotive, marine and more repairs with skilled gel coating and paint matching. Serving the tri state area's

Visit The Official Website of C2itenterprises.com


GoDragRacing Photography Featured On Competition Plus And Shakedown At E Town
Crash At Raceway Park Sequence
BARTUNEK RETURNS TO RACING AFTER VIOLENT CRASH
Written by Bobby Bennett
Tuesday, 25 May 2010 17:20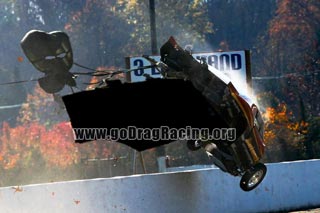 Between last November and May of this year, ADRL Pro Nitrous racer John Bartunek admits he was as indecisive as he's ever been about drag racing. His uncertainty had nothing to do with the tune-up of his engine or which series he should race. Instead, Bartunek was hesitant about whether he wanted to race at all following a 2009 crash where his car went airborne and flipped violently. One look at the footage of the crash Bartunek experienced last November during the Shakedown at E'town event in Englishtown, NJ., would leave the most seasoned driver second-guessing whether they'd want to race, too. For the record, Bartunek quit and decided to come back six times.

"Every week, you stop and wonder if it's really worth it," said Bartunek, who raced for the first time since the wreck at the ADRL U.S. Drags III in Richmond, Va. "You know putting all the time, the money, the traveling, it's tough. With a family and stuff, but we love to do this stuff and I enjoy it, that's the reason I'm about to do it again."

Bartunek just missed the sixteen-car field with a 4.026 best run but making the field was secondary to just finding his spot in the game again. Friday's first qualifying run was the first time for both he and his repaired car down the track since the accident. Bartunek admits the crash was a combination of driver error [aggressive driving] and a parachute getting underneath the wheelie bars. Jerry Haas, the car's original chassis builder, was able to rebuild the car from the remnants of the crash. "You can't tell that it was ever touched," Bartunek admits. "I mean Jerry did an absolute awesome job."

The initial indecision for Bartunek, he admits, was the long time which lapsed between the accident and the time the race car was returned to the strip. There's a common belief amongst those racers who have suffered a catastrophic crash which suggests the best way to eliminate the second-guessing is to get back on the track as soon as possible. "That's a fact," Bartunek confirmed. "You start thinking if it's time to call it quits. A lot of things run through your head. But you know, I like doing this stuff and that was unfortunately something that happened that we had no control over."

Bartunek's first run since the crash inspired a flurry of emotions. "It's interesting you know when you back away from the burn out and you're looking down the track thinking about what happened last time," Bartunek explained. "I'm pretty calm and confident." He did get out of the run early just to play on the conservative side. His first run was tuned aggressively, probably a bit too much for the first hit coming back. "I started out at a 3.80 pace and ended up at 4.09," Bartunek said. "The motor just wasn't tuned up right so hopefully this run will be a little better. I felt real confident, the car's perfectly straight, it's doing everything it does. Just like [chassis builder] Jerry told me on the phone, don't worry about it just let the clutch out."

And with the advice, Bartunek shuffled the Englishtown memories to the back of his mind.

See The Full Raceway Park Crash Sequence Here:

WickedGrafixx Enters Into Crew Shirts, Featuring Die Sublimation Printing And Full Apparel Services
WickedGrafixx Press Release: Apparel for the Wicked Outlaw Drag Racing Teams, by WickedGrafixx
WickedGrafixx is now offering the die sublimated crew shirts! I have had too many people ask me about doing them to not offer them anymore. I decided that if I wanted to be able to service my clients as well as I possibly could, then I should be able to offer them the entire apparel package, not just t-shirts. Whenever time becomes available to have a new website built, everything will be updated there regularly. For pricing, lead times and info, please email or call from our website at www.WickedGrafixx.com Here are few examples of the newest Stanley and Weiss Racing Pro Modified crew shirts coming out directly.
Kpsonservices Logo Design, Website Integration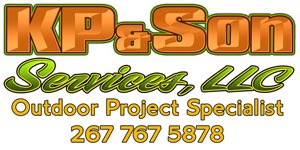 Venturing out of our normal Outlaw Drag Racing designs, Kpsonservices.com commissioned goDragRacing to begin the full package of logo design as a starting point, a basic "under construction page" fitting for a local lawn, snow plowing and general contracting business.

Kpsonservices is heavily involved in social media as their base for operating and now is ready to go to a global level with a full website but first a "branding" if you will was needed.

A simple design now used on the work signage and related apparel for the crew. The website will be a very classy full featured site with owner and goDragRacing maintained services for the Montgomery county Philadelphia areas. You can see the clean larger logo design and coming soon website page at Visit The Official Website of www.kpsonservices.com or follow them on face book as the website progresses.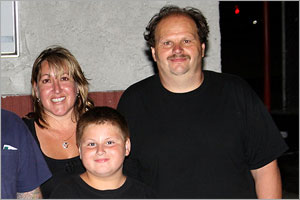 Susan Verzilli Memorial Collection

As you all know, Susan Verzilli, wife of Bill Verzilli passed away in January. She was a wonderful person, devoted to her husband and children Kim and Billy. Susan was also very dedicated to drag racing, being a loyal crew chief to her husband, as well as being involved with the 8.50 Index series and the Shakedown at E-town. She loved being at the track and always had a smile on her face for everyone. Susan always welcomed everyone into their extended racing family.

In honor of Susan, we are starting a collection in her memory to help out Bill and his family during these tough times. We are asking fellow friends and racers to make a small donation of $20.00. We will be collecting donations at Raceway Park, Englishtown, this Friday, April 23rd at the 8.50 Index race and at Atco Raceway's 8.50 Index race on Saturday May 8th. We will be presenting the collection to Bill at the end of the day at Atco's 8.50 Index race on May 8th. We request that you stop by our trailer as it will be difficult for us to walk around the pits to everyone. If you will not be able to contribute at either of these races we also have a PayPal account set up for the donations. The PayPal e-mail address is ambuscio@yahoo.com . If you choose to pay via PayPal please be sure to include your full name and contact information. There will also be a card for everyone to sign in person. If paying via PayPal we will add your name to the card. A full list of names will be given to Bill with the card as well so he knows who contributed.

Unfortunately, we do not have everyone's contact information so we please ask that you pass this information around to anyone you know who may be interested in donating. If you have any questions please feel free to contact us at 732-237-9481 or through private messaging on the message boards.

Regards,
Craig and Ali Buscio
Buscio Racing